Portrait Of An Artist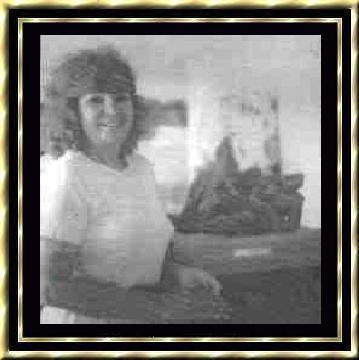 Anita Neal in 1988
As written In the
Huntington Beach News by:
Lenni Sanders, September of 1988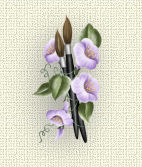 "I'm excited about life and
about the things to come."
The year was 1984 and Anita Neal was 55
years old, an age when most people
considered retiring from professional
life. But Neal's life took an unusual
turn that year when she became an
overnight sensation in the art world.
Her work, which consisted of oil
paintings, nude sculptures, and mixed
media acrylics, was now being exhibited
in 60 galleries throughout the world.
Through determination and courage, she
had overcome economic struggle, near paralysis,
the loss of her first husband and the
tragic death of a very talented young son.
Her life can be seen in her art.
At age 59, Neal spoke excitedly about her
art studio which was under construction at
that time in Big Bear, she spoke about her
plans to exhibit every where, and about her
national and international acclaim.
With buoyant energy she had exclaimed,
"Isn't it wonderful?"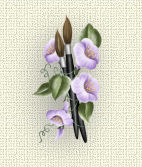 But Life for this Huntington Beach
artist wasn't always wonderful!
However, the seeds for greatness and
outrageousness were planted in her
ancestry. Neal is a direct descendent
of Juan Marquez, a 16th century
representative of the King of Spain,
who claimed the state of New Mexico
for his country and settled in that state.
Her other illustrious ancestors include:
General Custer; John Paul Jones; the 19th
century German Composer, Felix Mendelssohn;
and a great grandmother who traveled
from New Mexico to California in a
covered wagon. This great grandmother
opened the first boarding house in
Glendale and served breakfast to Tom Mix.
Years Of Tradedy and Resilience
Ms. Neal was born in Glendale during
the depression. In her childhood,
Neal's father traveled throughout the
states to find work in construction.
There were times when her parents were
forced to put young Anita in orphanages
or foster homes while they traveled.
Whenever her father obtained a position
paying more money, they were reunited.
In 1988, Ms. Neal spoke with pride of
her father's involement in building the
Hoover Dam. For awhile, he even made
enough money for Anita to attend private
shcool. However, she began to support
herself at the age of 16 by working in
the medical field.
Married in 1947 to her first husband,
Truman Dowdle, Ms. Neal had two children,
Doug and Wendy, and the family struggled
with poverty during the early years of
the marriage.
Ms. Neal's life has been a series of ups
and downs. For after poverty, came riches
as the Dowdles got involved in real estate
and their economic situation improved.
But, once again, an obstacle appeared.
This time Anita Dowdle was hit by a
drunk driver and lost all mobility below
her chest. She spent much of 1965 and
1966 regaining the ablitlity to feel and
walk again. Gradually, she learned to
walk and the family began to acquire money
through innovative marketing concepts in
several different business areas. They
were beginning to do well again.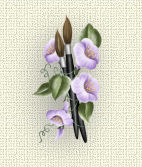 But tragedy surfaced once more in 1969
when Truman Dowdle was killed while
piloting a private plane. The plane
was caught in turbulence. The only
reason Anita didn't fly with him on
that day was because she was home
recovering from a minor illness.
Left with two teenage children to raise,
Anita began, once again, rebuilding her
life. During this time, she began to
dabble in oils and started painting
landscapes. She also began taking classes
in design and color but more as just a
hobby than anything else.
"I never had an inkling of any talent,
"Ms. Neal had no sense of the great
artistic talent within her that had
yet to emerge.
The Artist Emerges
In 1971, Anita Dowdle became Anita Neal
with marriage to Dale Neal, an insurance
executive. Her interest in art began to
escalate as she earned an Associate in
Arts degree from Golden West College in
Fine Arts. In 1981, she began taking
private art classes.
The artist now recognized as Anita Neal
received her first commmisssion in 1983
and by 1984, had become sought after by
the public. By joining local art groups,
Ms. Neal was able to acquire more visibility
and local artists and galleries began to
recongnize her emerging talent.
What is "Nealism" and how did this
"overnight sensation" become inspired?
Ms. Neal's inspirations had been her
own experiences and the awareness of
people around her. She sees and feels,
and is dramatically able to convey those
feelings on canvas in extraordinary ways.
Ms. Neal modestly accepts her acclaim.
Her humility is evident as her love for
art and people is what seemed to excite
her most.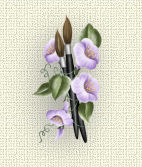 Largely representational, her well-known
"Big Mommas" series had been inspired by
what she called "the dignity of the
larger woman." "The woman who poses for
this series didn't want to be acknowledged.
I acknowledge her in my art", Ms. Neal said.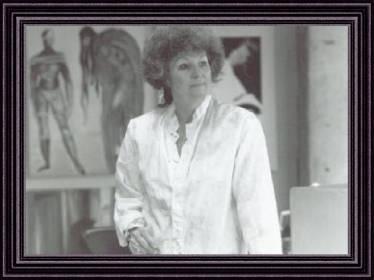 The paintings in the series are humorous
yet beautiful depictions of earth mothers.
Her color abstracts are interpreted by
modern critics as somewhat similar to
Jackson Pollock in style.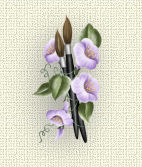 The portrait called "The Family,"
emotionally shows Neal's late son,
Doug, his wife and child clad in white
with Doug turning toward the artist.
This was painted prior to her son's
untimely death in 1986. After Doug's
death, Ms. Neal became less of a figure
artist and more of an abstract painter
with dark forboding colors appearing
in her work. Her emotional healing was
still in place as she worked on a
piece ~ her own interpretation of a
13th century religious work showing
Christ's immortality and his mothers's
mortality. Perhaps the completion of
that piece helped her with to heal the
pain of her loss.
The Acclaimed Artist
Ms. Neal's art is exhibited throughout
the world. Her mentor, Ray Friesz, a
disciple of Jackson Pollack, introduced
Ms. Neal to the Crosshatch group which
is comprised of many 20th century artists.
While her brush strokes in several
paintings have been compared to those
found in Pollack's work. Ms. Neal's
style springs from her own soul and
imagination, and so her fame continued
to grow as "Nealism."
In addition to Ray, one person who had
inspired me was Tracy St. John, a world
famous photo-journalist who suggested I
combine abstract with the figurative.
I like the results," Ms. Neal says.
She was the only Californian at the time
selected to be in "New Art in New York,"
at the famed Parsons Institute of Design
in New York City, one of only 60 artists
selected from over 6,000 entries.
Her oils, nude sculptures and mixed media
acrylics has been internationally acclaimed.
She has been recognized as a major talent
by Lowery Sims, curator of 20th Century Art
at New York's Metropolitan Museum of Art;
April Kingsley, the New York Art Critic;
Dr. Ann Ayres, associate curator of Newport
Harbor Museum; Dr. Bill Otten, former
director of Laguna Art Museum; and a number
of other institutional experts. Ms Neal at
this time was also associated with;
the Smithsonian Institute Hirshorn Museum
Registry; the John F. Kennedy Performing
Arts Center, Washington D.C.; Huntington
Beach Allied Arts Board; Irvine Fine
Arts Center; Bowers Museum and many
other institutes.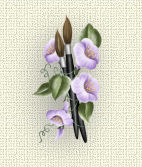 Local galleries which exhibited
Ms. Neal's work included: the Ellan
Gallery in Laguna Beach; the Southern
California Contempary Art Gallery in
Los Angeles; and Loyola Marymount
University.
In June of 1988, Chinese American artist
were invited to Ms. Neal's studio, then
housed on the Penthouse floor of the
Charter Center Building in Huntington Beach,
California. Under the auspices of Friends
of the Artists for Cultural Exchange (F.A.C.E.),
many internationally acclaimed artists
shared their ideas in an evening devoted
toward promoting true international peace
and understanding among the artists
of the world.
The Future
Ms. Neal, a true humanitarian, had been
inspired by her personal losses and by the
many people around her. Her art is
inspirational to all who view it.
She is constantly looking to the future.
At the time of this interview Ms. Neal
said, "I am now excitedly working on
a multi-colored abstact which is
entitled the "Conspiere" series."
As Ms. Neal pursued different media and
continued to grow as a woman and as a
human being, her art had also grown.
Her works have been in great demand
over the years. Every piece she created
excited her.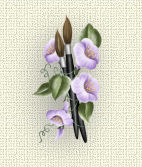 Below is My Guestbook
Please take a moment to let us know you were here, Thank You!
Guestbook provided by


Copyright 2002 Anita Neal, All Rights Reserved.
All works shown on this site are property
of Anita Neal and/or their respective owners.
No rights or permissions are granted for
display of any variations of these images on
other web sites, in web chats, web auctions
or in any other forms or variations
without express permission from Anita Neal
and/or their respective owners.
Thank You.
You can learn even more about
this amazing woman Anita Neal by clicking
onto the links below.